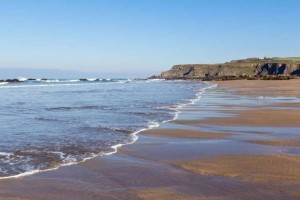 This weekend we went to the Beach!  We decided to visit Widemouth Bay Beach in Bude, North Cornwall as this has just been awarded the coveted Blue Flag status.  This is an internationally recognised standard and is an annual certification from the Foundation of Environmental Education, to gain this, beaches have to meet certain criteria which fall into the following main categories:
Environmental Education and Information – to include details of the Blue Flag scheme, a beach map, and location of facilities;
Water Quality – contains no industrial waste water or sewerage related discharges;
Environmental Management – this covers the admin side, keeping the beach clean, and states toilets must be available to the public;
Safety and Provision of Services – the beach must be patrolled by lifeguards, availability of drinking water and accessibility features.
This beach is a mecca for families and surfers alike and more importantly to us, the south side of the beach (Black Rock) is dog friendly all year round.  The north side allows dogs from 1st October through to Easter Sunday, and when the tide goes out reveals many fascinating rock pools.  Surf schools offer lessons for total beginners through to advanced surfers, including hire of equipment.
After walking Barney along the beach we sought refreshments in the Widemouth Bay Beach Café, they serve everything from a full English breakfast to chocolate brownies, soup to ice cream and also offer gluten free alternatives.  They were also happy for Barney to come in with us, and provided him with his own bowl of water.
All in all, a thoroughly enjoyable day out was had by all, and the weather wasn't bad either!