Are you thinking of that perfect Christmas with family and friends that includes the family dog?   Maybe dreaming of restful days and meditative evenings leading up to the Christmas rush? Or would you simply like to escape the frantic festive season in favour of a more peaceful pace?
Here at Lower Marsh Farm you'll be sure to get your Christmas off to a sparkling start.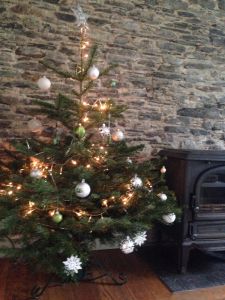 Our cottage and barns are perfect for romantic Christmas getaways, a break with the children or even a 'family and friends' get together in our Kingfisher Barn – perfect for larger groups and all in an idyllic setting that's sure to delight. Over Christmas, your property will have a beautifully decorated Christmas tree and homemade wreath. All that you need to do is put the presents under the tree, hang up a stocking or two and perhaps add a few of your favourite decorations.
Each of our properties have a hot tub, selection of books, jigsaws, board games & DVDs for you to enjoy in front of our comforting log burners. When you are feeling energetic, you could take advantage of the games room for a table tennis match or outside a proper game of tennis on the tennis court.
Taking in the stunning scenery here around the farm.  With coastal path walks on our doorstep you can make the most of the outdoors. Wellies (we have a big box of these here available in most sizes for you to borrow), waterproofs, hats and gloves are a must in December. We have booklets at the farm with lots of information about the close by South West Coast Path walks that you could enjoy!
We would love to help you source a locally produced Christmas dinner (normally we will have a a selection of farm sustainably grown seasonally vegetables and can recommend local producers of farm born and raised properly free range goose or duck). Tastier, less food miles and less packaging! We also offer a 'ready to heat' supper service which you can pre-booked to help take the strain out of your day.
Things to do…
With so much going on in Cornwall this Christmas too, it's worth planning your stay early.  Here are have a few of our favourite events.
Christmas Tree festivals have been growing in popularity and the tree festival in Tavistock is simply glorious.  Tavistock is only a short 40-minute drive away. The tree festival is set within the stunning setting of St Eustachius' Church. Over 60 trees are decorated by local businesses. You will not be disappointed.
Or, why not plan a visit to one of the many stately homes, festooned with festive decorations and opportunities to sample their local seasonal fare? Cothele, a particular favourite where each year the Cothele gardeners build a 60ft garland from thousands of flowers grown on the estate. Just prior to Christmas Day they celebrate the Apple harvest in the Pagan Wassail festival which is an annual event for our family, getting dressed up is optional but taking a 'musical' instrument is virtually mandatory – especially for young children!
The Eden Project, St Austell has all things festive, from ice skating, lantern processions and festive treats, there really is no better way to immerse yourself in all things 'merry and bright'. Definitely worth pencilling in your diary.
But if your 'special' Christmas thing is sparkle, then you simply have to visit the Padstow Christmas Lights from November to January where Padstow is illuminated throughout the Christmas season and they even have floating displays in the harbour.
Or simply relax here with us! Take in the beauty of our private woodlands. Set within an Area of Outstanding Natural Beauty on the stunning River Tamar.  You can even indulge in your own hot tub for that ultimate relaxing experience.