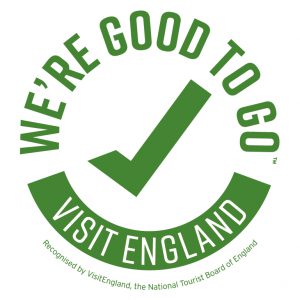 Here at Lower Marsh Farm, we are committed to protecting the health, safety, and well-being of all our guests and our team at all times.
We understand that this is a very unsettling time.  With the Covid19 outbreak having now taken a firm hold on our daily lives, we thought we would share some of our routines with you.
We have ensured that the meet the current guidelines put in place to reduce the transmission of the Coronavirus to be a 'Covid-secure' venue achieving the "We're Good To Go" industry standard mark.  The "We're Good To Go" industry standard mark is a self-assessment scheme that has been designed by VisitEngland in partnership with the national tourist organisations Tourism Northern Ireland, VisitScotland and Visit Wales to provide a 'ring of confidence' for all sectors of the tourism industry, as well as reassurance to visitors that businesses have clear processes in place and are following industry and Government COVID-19 guidance on cleanliness and social distancing.
Coronavirus pandemic and your booking
If holiday accommodation is closed by the government at the point of your booking then we will issue a full refund or move to other dates (within 12 months of your original booking dates and subject to the pricing of the new dates chosen) – whichever you prefer. The same will apply if you are unable to travel here for your booking due to restrictions in your home area.
If you are unable to use your booking due to a member of your party being required to isolate as a result of a positive C19 test or similar, then we will attempt to re-rent the accommodation for the dates of your booking. If the accommodation is re-booked we will refund as much of your booking rental as possible limited by the re-booking rental price. We would suggest that you obtain travel insurance with Covid-19 cover.
Obviously we can only accept bookings that are compliant with the government restrictions in place at the point of your booking: the current information is available here. It is impossible to know what restrictions will be in place in the future so if your booking becomes 'non compliant', please contact us to discuss options.
Cleaning & hygiene processes
Contactless check-in and check-out.
Minimum changeover gaps to enable good ventilation of accommodation.
Provision of hand sanitiser is shared spaces.
Our cleaning procedures have been intensified – our team are, ensuring all communal areas are cleaned regularly: door handles, work-surfaces etc.
We launder and press all our own linen.  We can assure our guests that the cleaning is of the highest standard, with minimal external contact.
Although there is no evidence that COVID-19 can be spread to humans through the use of hot tubs, we can assure our guests that proper operation, maintenance, and disinfection (e.g., with bromine) of our hot tubs should remove or inactivate the virus that causes COVID-19.
We will follow NHS advice when required and any of our team who show even mild signs of flu-like symptoms will be advised to follow the guidance surrounding medical care and self-isolation. We are ensuring that team members will be fully supported during this time.
[vc_button title="Check Availability / Book now" target="_self" color="btn-primary" icon="wpb_arrow" size="btn-large" href="/bookings/" el_class="aligncenter"]