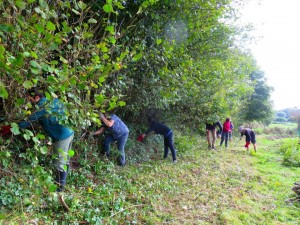 The first day of this year's Hedge Laying work took place here in October. We were grateful to host the Plymouth Environmental Action (PEA) running one of their 1 day workshops teaching people traditional rural crafts.  PEA is a practical conservation organisation run by volunteers for volunteers and includes projects such as tree planting, beach cleaning, dry stone walling and wildlife pond creation.  Some of the hedges here have not been traditionally managed for many years so were in great need of some attention from the 10 willing volunteers!
How to lay a hedge?  Hedge laying is a very old traditional way of managing hedgerows and is performed between October and March, out the growing season.  A well layed hedge not only forms a great livestock proof fence but also provides a better habitat for a wide range of wildlife.  Firstly, the area is cleared of any dead wood, ivy and old fencing material, before the tree branches are thinned out, removing large side branches and top heavy material.  After this the remaining branches are partially cut through, at an angle, allowing them to be bent over but stay alive! These are 'layed' horizontally, and interwoven or staked down, thus encouraging future growth upwards instead of outwards.  If the hedge is well layed on an established bank, then it should only need maintenance trimming for the next 50 years.  As usual, there are key differences between a Cornish hedge and a Devon one – you can read more here!
What tools are needed?  An experienced hedge layer will probably only need to use a bill hook, but depending on the state of the hedge in question other tools may include tree loppers, an axe and a saw (hand or chainsaw!).  Also a good strong pair of gloves is recommended as plenty of the undergrowth will be sharp (brambles, hawthorns, wild roses are all lurking)!  On courses such as those run by PEA, all the tools are provided with instruction on their use.
We are looking forward to hosting another PEA Hedge Laying workshop on 19th November which can be booked via their website.