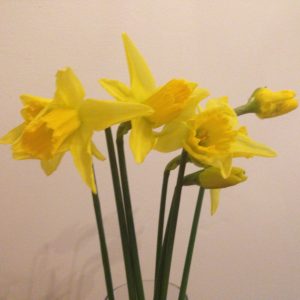 Here at Lower Marsh Farm we will be surrounded by hundreds of beautiful daffodils come the end of February/beginning of March, just in time for St David's Day celebrations on 1st March. Our first daffodils are already out and it is only just February! This is because Lower Marsh Farm used to be a commercial daffodil farm.
In the early 1950s brothers Dan and Peter du Plessis carried on their father's work of daffodil and narcissus growing at Lower Marsh Farm and during the 1960s officially went into business to grow and sell commercially.  In addition to their father's existing varieties, they produced and named over 40 new types, including Noss Mayo, Tamar Fire, Bere Ferrers, Chenoweth, Kingsmill and Haye, making several hundred grown on a 20 acre site at the farm, many of which won awards at the Tamar Valley Flower Show, and at the National Daffodil Show.
As the weather here in the Tamar Valley is favourable to growing early spring flowers, the brothers were able to supply the daffodils and narcissus to markets all over the country before their potential rivals could, boosting the business further.  Following their success, du Plessis-bred bulbs have spread to Canada, New Zealand, America, Europe and Eastern European countries including Russia.
The du Plessis brothers became leading figures among the daffodil breeding fraternity, Dan was one of the driving forces behind the formation of the Cornwall Area Bulb Growers Association, and even elected vice-president of the Daffodil Society – an accolade indeed!  News of their success even spread to the Palace, prompting a royal visit by Prince Charles, Duke of Cornwall.
Although Peter and Dan du Plessis retired in 1990 and the farm changed hands, many of their original varieties still grow here, and we have plans to identify them and re-introduce many of their other varieties.
Then for yet more stunning daffodil displays, a visit to the Cotehele Estate, just a few miles away is very worth while.  In fact, each year they hold a daffodil display weekend, with fantastic displays of historic and new varieties (including many of the du Plessis), guided tours round the gardens and more. This year it is on the 18th and 19th March  and for the first time there will be daffodil sculptures on show.