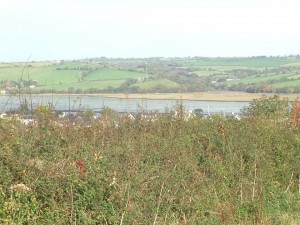 From Lower Marsh Farm you can take a gentle walk over to Cargreen which is perfect for dogs and those with young children as there is a great playground at the other end. Take a picnic or flask of something to enjoy when you reach Penyoke.
Directions
Walk down the farm drive, and on reaching the lane turn left and go up past the Church. On the second left curve in the lane (approx a third of a mile along), you will see a footpath leading off on your right (there is a sign post and it looks a bit like a tunnel through the trees). Take the footpath and you will shortly reach a stile that will need to be climbed over. This then takes you along a hedgerow with views across to Devon and the River Tamar. You will quickly reach another stile on your left which takes you down the hill across the middle of a field which will often have horses in it (so keep dogs on a lead). At the bottom of the field is another gate which leads down through a wooded area out through another gate into the village of Cargreen. Turning left takes you to the Penyoke recreation space with playground, small football pitch and seating on the banks of the River Tamar looking out towards Devon. The perfect place to relax with a picnic, or refreshing drink.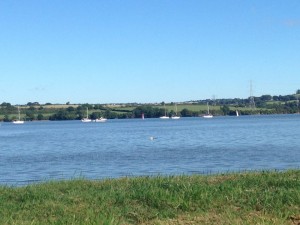 The walk is both dog and child friendly with gentle hills. Both may need some help at one or two of the stiles and most have gates that can be opened instead. Walking to Cargreen playground is around 1 mile and takes about 40 minutes with our 3 year old depending on the number of treasures found on route. So for unhindered people….may be 15 minutes.
Getting Home Options
You can then either head back the same way, or go along the river bank (turn right from the playground beach). Only take this route if the tide is out and you have checked that it is not on its way back in again! Along the bank, after approximately 1 mile, you will see a small slipway with a footpath sign – coming back along the footpath brings you alongside the Salt Marsh back on to the lane (turn left onto the lane). You will almost immediately see the church and the farm drive is straight ahead of you.
Another option for the walk back is to go up the lane past the playground, keeping left (up hill!) you will soon reach a junction. Turning left here brings you back along Church Lane, which also has glorious views over the river. At the end of Church Lane, turn left to head back along the lane toward the farm (only a bit more uphill before descending back down!). We have friends who are runners and enjoy this route for its hills!