On arrival at Lower Marsh Farm you will be welcomed with a complimentary food hamper filled with a selection of essentials, many of which are locally sourced with less than 10 food miles for extra tastiness!  The hampers normally contain a selection of:
Eggs (with proper orange yolks!) from our own free range chickens and ducks.
Apple Juice from trees in the orchard (just pressed with nothing added).
Cornish milk and butter from the Green Cow Dairy at Trenance Farm. Not only is this local and delicious but also plastic wrapping free. The milk comes in proper old style glass milk bottles!
High fruit content jam free from artificial additives or preservatives made by Boddingtons Berries on their Cornish farm or raw unpasteurized honey from bee hives less than a mile from us (a completely different experience to supermarket versions!).
Multi-award winning Artisan Sourdough Real Bread from The Little Bakehouse in Launceston,
A sweet home-made treat such as chocolate brownies.
A lovely bottle of Cornish wine from Knightor Wine (for stays of 7 nights or more).
When we can, there will also be seasonal fruit from our orchard and fruit garden:

such as apples,
pears,
plums,
red currents,
blueberries,
strawberries,
raspberries.
From the vegetable patch, we try to include:
fresh sweetcorn,
tomatoes
cucumbers
runner beans
(depending on our success with beating the various wildlife that wishes to feast on them, staying on top of the weeding, and actually planting seeds in the first place!).
We will also have a vase of seasonal home grown flowers from on the Farm. Depending on who collects the flowers for this, it will either be 'eclectic' or more recognisable as a flower arrangement!
Toiletries
Finally we also provide a small selection of complimentary toiletries in our bathrooms; hand wash and solid shampoo (conditioner is not required when using solid shampoos). The solid shampoo bars are paper wrapped, vegan and made locally using mainly natural products.
Cream Teas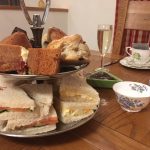 Fancy a Cornish cream tea on arrival?  We can arrange that for you too.  All you have to do after your journey is relax with a cup of tea or a nice chilled glass of wine, the perfect start to your holiday.
If during your stay, you want a celebration cake or a delicious ready-made home cooked meal, let us know and we can put you in touch with a local provider.