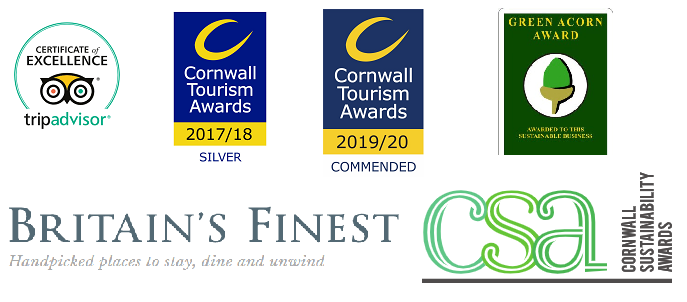 We are very proud to have won Silver in the 2017 / 2018 Cornwall Tourism Awards Self Catering Property of the Year category  & Highly Commended in the Wildlife Friendly Tourism Business Award category. Read more here. In 2018 we were awarded Highly Commended in Cornwall Sustainability Awards Best Contribution to Environmental Growth through Land Management 2018 category (the winners were The National Trust!). Then in 2019 we were awarded Commended in the Cornwall Tourism Awards Ethical, Responsible and Sustainable Tourism Award 2019 category.
We are also happy to hold the SECTA Green Acorn Award (which gives recognition to those who want to do more to reduce the impact of their businesses, and that of their guests, on the environment) and be listed with Britain's Finest; handpicked places to stay. In 2019 we were been awarded the TripAdvisor Certificate of Excellence.
Richard L said "What can I say apart from from this place is a must visit." November '20
Excellent hospitality by the owners. Welcome basket on a arrival to which we kept topping up. Amazing views. Can't wait to go back. Ideal location to visit all areas. Please pay a visit especially at the moment. When you can, please go. We are both key workers and have been none stop throughout the pandemic and our week break was amazing…..
Olivia J said "We had a lovely time, the location is picturesque and the property had everything we could have wished for." November '20
We had a lovely time and would definitely come again and recommend your place to other people.
Nicholas P said "A very beautiful farm and wonderfully refurbished accommodation." November '20
We had a really enjoyable stay . The accommodation was fantastic and we had some great walks.
Tamsin S said "We had the most amazing stay here." October '20
It was a perfect getaway for a few days and we will definitely be coming back. The hot tub was great, and the place was perfect for the two of us. It was a great location to explore the area and we loved our visit to Goliath Falls. We also really enjoyed the walk around the local area. Due to coronavirus we didn't fancy going out for dinner so the meals Chris made us were brilliant to put in the oven at the end of the day. I really recommend staying here, you wont regret it!
Mark H said "Fantastic place, we could not fault it." October '20
Fantastic place, we could not fault it. Really quiet and peaceful, beautiful accommodation. Hopefully we will return for another stay.
Kirsty H said "A fantastic place to stay, would recommend to anyone!" October '20
A fantastic place to stay, would recommend to anyone! The wood fired hot tub was particularly special.
Kirsty D said "Exactly what we needed!" October '20
A short break away in a beautiful location to chill out! Thank you! 🙂
Bronte W said "Wish we could have stayed longer!"  September '20
We had a wonderful mini break at Lower Marsh Farm. Beautiful cottage and location…We loved the hot tub and wood burner too!! Wish we could have stayed longer!
Stephen D said "We had a lovely stay at Bulrush Barn."  September '20
The barn is beautiful and the hot tub was brilliant. Overall a fantastic place to stay.
Jessica R said "We are recently back from a wonderful week at Lower Marsh Farm!" September '20
We stayed in Bulrush Barn, the barn is so cute and perfect for a couple – very private and secluded, the welcome hamper was a really lovely touch that made us feel instantly welcome. Bulrush was very clean and well stocked with pretty much everything you could need (for coffee lovers there is a cafetiere – so bring some ground coffee with you). We also had a wonderful afternoon tea ready for when we arrived, if you're thinking about it I would recommend adding this on as it was fantastic – best scones we had!
We used the barn as a base to explore a fair bit of Cornwall, it was our first visit so had a lot of things on our list. Pretty much everything is in relatively easy reach, we made it down as far as Penzance one day. There are also some well-mapped walks on the farm, we did a little stomp down to the river through the woodland which was really nice. The hot tub in the garden was great to have, the stove takes a fair bit of getting used to (if, like us, you're not used to wood burners!) but Pete very kindly helped us get it going – and gave us some tips. Once you get the hang of it it's very easy to do!
As a few have mentioned the farm is a bit of a drive from the village – we loved this as were looking for something remote and quiet, it was really lovely to come back from a day out and be somewhere so peaceful. If you're looking for a relaxing retreat from daily life or a lovely base to explore Cornwall and Devon I couldn't recommend Lower Marsh Farm more, we will be back!
Aimee B said "Just lovely"  August '20
We have just come back from a fantastic week in Lower Marsh farm. We stayed in Orchard Cottage which was so perfectly cosy ! The cottage was spotless, well equipped, amazing hot tub and enclosed garden which was so perfect for our spaniel. The welcome hamper of yummy goodies was such a lovely touch too. The farm is just perfect for a peaceful stay, you literally can't hear anything except nature and the quacking of the on-site ducks (very entertaining along with the naughty peacocks!). Plenty to do onsite, we enjoyed putting on wellies and going for a muddy walk down to the river and just sitting back and relaxing. This was our first time to Cornwall and we enjoyed visiting the local towns as well as the tourist hotspots (these are a fair drive from the village, however we loved being able to return from a busy day at beaches to such a peaceful location). Very helpful and friendly owners. Would defiantly recommend a stay at Lower Marsh Farm!
Anna K said "Highly recommended!!!"  August '20
We visited with our two dogs for 4 days and ended up extending our stay. We were in Bulrush Barn and absolutely loved it. Beautifully put together and tastefully furnished. A real treat for two people needing to unwind. Hot tub fab and garden wonderful… Not overlooked and completely safe for our huge dogs. Team were fab and very welcoming. We booked two nights of cooked meals and really enjoyed them. Highly recommended!!!
Kristina G said "Gorgeous farm and perfect for a group or family holiday as so much space and things to do, really great facilities with lots of privacy. The tennis courts were brilliant as well as the hot tub." August '20
Lovely to wake up in a hidden part of Devon and to enjoy the scenic walks nearby. Could not recommend more as the host is lovely and accommodating 🙂
Gemma B said "Orchard Cottage is outstanding, the grounds are so beautiful with a games rooms and tennis courts. The private hot tub is the cherry on top." August '20
Lots of great walks nearby which we loved! The cottage itself was clean and cosy. Olivia sent a wonderful information pack in advance which allowed us to research the area and have everything we need prior to arriving. Thank you again, we loved it!
Hannah L said "Bulrush Barn is a gorgeous and looks exactly as pictured, with ample space for 2-3 people." August '20
Extensive welcome pack was provided which contained all of the information needed for our stay. The surrounding area is lovely and all of the people we met were very friendly and helpful. Special mention must go to the birthday cake that we arranged to be made and delivered which was one of the nicest cakes we've ever had. Highly recommend!
Lucy V said "We had a great week at Lower Marsh Farm. This is a beautiful spot with plenty to do and also a great place to relax." August '20
We were blessed with great weather and the kids loved the hot tub. The house had everything we needed and was comfortable. Olivia was a good host an hand to help with any questions we had and the kids loved cuddling the peacock chicks! I shall miss saying good morning to the geese every day.
Hayley T said "A wonderful stay, the farm is adorable" August '20
The Swedish wood fired hot tub was fab, the private beach and meadows are defiantly worth a visit as it's very relaxing in the sunshine! A beautiful stay, the farm is adorable and the little touches left on arrival such as the fresh farm apple juice and the posy of flowers on the table. The farm itself was fab, and the private beach and meadow hammock was our fave places to spend the days! Thanks very much!
Danielle S said "Thank you for such a great stay. Having been shielding for so long it was fantastic to get away safely and have a peaceful break away. We loved every minute and didn't want to leave. The Apple juice went down very well with my son also! Thanks again, would definitely recommend and hope to return back again in the future!" July '20
The cottage is just as described (if not better!) we had a self check in which was perfect with social distancing, we arrived to a nice cool cottage on a hot afternoon, apple juice on the table & milk in the fridge. Great to settle in with a cup of tea! The hot tub is tucked away nicely in the garden next to the back door and was incredibly peaceful listening to the wildlife. There are  some great walks around, we walked down to the River Tamar which was only a short walk away. We enjoyed having a game of tennis too and borrowed some games from the games room. Absolutely fantastic stay, highly recommend.
Olivia H said "Brilliant weekend, lovely barn with nice rural walks surrounding." July '20
The hot tub was thoroughly enjoyed during all weathers that we experienced and only took an hour to heat up. Thoughtful touches with the fresh eggs and apple juice. We would definitely return.
Hayley D-H said "Will most definitely be staying again." July '20
Property above expectations, clean and interiors decorated and designed to a high standard. Hot tub was ace!. The owner was very welcoming and accommodating and a great cook ( well worth trying her home cooked food). Plenty to do on the farm and so peaceful. Will most definitely be staying again.
Gaspard M said "Fantastic cottage in one of the most beautiful countryside backdrops in England." July '20
Fantastic cottage in one of the most beautiful countryside backdrops in England. Olivia was very helpful and welcoming and the property and hot tub were outstanding. Some great wood walks around the enchanting Tamar valley and riverbank. We didn't want to leave! Would definitely visit again.
Chris M said "we had a wonderful stay and would definitely return" July '20
Lovely peaceful getaway, Hot tub was lush If you go for make sure to borrow wellies. Nice personal touches a personalised cake, apple juice, fresh eggs and milk on arrival.
Anthony D said "Excellent rural spot in the Cornwall countryside." July '20
Short drives to many seaside towns and good local pubs and produce to sample. The farm animals on site are a nice relaxing distraction from city life. The eggs from the farm were fantastic not forgetting the apple juice too. The hot tub is a nice way to end a days hiking. Thank you"
Anna T said "Beautiful quiet cottage with a hot tub and tennis court." July '20
The place is easy to find with lovely hosts. There's chickens and ducks wondering around which is lovely. The accommodation itself was clean, well equipped and tidy. Would recommend!"
Allison P said "The property as a whole was perfect with all it had to offer." July '20
My boyfriend and I stayed in the Orchard Cottage for 2 weeks and had such an amazing time. The property as a whole was perfect with all it had to offer. The cottage itself was absolutely perfect as well. We went in the hot tub almost every night. Olivia is a great host and is super nice. She had a little basket of goodies waiting for us when we arrived! Overall, we had an amazing time and would highly recommend this property! Would love to come back! Thank you Olivia!!
Stephanie W said "This was a beautiful place to stay – away from all the hustle and bustle." March '20
The property was beautifully maintained, and there were several extra touches included that added to the experience. The place was spotless and the spa outside was the cherry on top!
Patrick S said "We would highly recommend this place to stay." March '20
It is a very modern and well equipped converted barn in the middle of beautiful countryside. Olivia is also a brilliant and incredibly considerate host.
Holly M  said "We had a fantastic time!" February '20
Lovely barn! Great place to relax and great that it was dog friendly too!
Gavin H said "Quiet farm setting, amazing fire and comfy bedrooms" February '20
Quiet farm setting, amazing fire and comfy bedrooms, well equipped kitchen. Fresh eggs from ducks & chickens were very tasty!
Lisa C said "Absolutely immaculate space" February '20
Absolutely immaculate space with little foodie treats on arrival, helpful information pack sent prior to arrival, quick and efficient communication. We managed to book for the weekend of a horrendous storm but it didn't stop us getting out and about! Loved the basket of eggs, apple juice etc, that was a really nice touch.
Louisa S said "We had an amazing stay here and Olivia was a super host." February '20
The children loved the games room and it was a great place to entertain them in poor weather conditions. The hot tub was a real delight and to be able to walk out from the house with the dogs and leave the car behind was an added bonus. Olivia supplied us with wellie boots and told us where to spot the barn owls and the weather didn't stop us doing anything. The house is well equipped, great TV and surround sound for relaxing with a movie, comfy sofas and a lovely woodburner. Would highly recommend and we can't wait to return.
Ashleigh S said "The farm is perfect, so quiet and peaceful. " January '20
My partner and I stayed at the Orchard Cottage for 3 nights recently and thoroughly enjoyed our stay! Olivia was very helpful right from the start and throughout or stay. The cottage was perfect – clean, well decorated and with all the amenities you need. The private hot tub was the icing on the cake for us – well worth the additional £30 charge during the winter months. There are plenty of suggested walks, pubs and days out in the welcome pack. We enjoyed a walk around the farm and down along the waterfront. We also visited the recommended pubs for food – what a fantastic suggestion! The location was just fantastic with only the quacking of excited ducks in the morning to wake you! We had a fantastic weekend, thank you so much to Olivia and everyone at Lower Marsh Farm. We will be back :-)"
Luke S said "Bulrush Barn is an amazing find – the barn itself was immaculate and the perfect place for us to stay for 10 nights." January '20
Olivia was extremely accommodating and helped to make sure that we had everything we needed prior to arrival – we were traveling with our 16 month old as well and Olivia was kind enough to have a full crib (cot) set up and ready for us. Everyone on the farm was friendly and welcoming to us all. We can not recommend this Barn highly enough – Thank You Olivia!
Hannah R said "Olivia was really good at communicating with us before our booking and arrival, which we were incredibly grateful…" December '19
Olivia and Ed were both so welcoming and Olivia showed us to our cottage and how to work the hot tub etc.. Whilst the barn is obviously part of the family farm, it still offers superb privacy and it didn't feel as though we were staying close by to anyone. It was clean, cosy, very well equipped for cooking and entertainment.
Leeann D said "Lovely host and lovely cottage" December '19
I took my hubby and 2 dogs to lower Marsh farm over the new year and we had such a relaxed few days, Olivia had left out a lovely welcome gift of apple juice and brownies which were divine! She also had dog bowls, towels and poo bags for the doggies! Oh and the Christmas tree was such a delight to have. The area itself is lovely with plenty of walks and only a short drive to a local supermarket… stock up on way as you'll probably not want to leave the cottage unless for a stroll 🙂
Matt C said "Really enjoyed our stay! Such a lovely cottage and farm! Would certainly recommend." December '19
Lovely cottage and farmhouse, with a lovely walk to the river. Hot tub and fire were perfect for relaxing after a day out exploring.
Elissa G said "Thank you so much for having us to stay. We all had such a wonderful Xmas and the barn was loved by all. Happy New Year! 🎊"  December '19
Kingfisher Barn was an absolute joy to stay in. We had an incredible time, the space was relaxing, clean, comfortable for a big group and had all the extra touches like the fire place and hot tub for keeping warm. Olivia is a fab host and would recommend for all. Would book again in the future.
Steph T said "Thank you for letting us stay in your beautiful cottage. We had the most lovely and relaxing Christmas. Stunning surroundings and beautiful decor inside." December '19
Orchard Cottage is beautiful and homely from the minute you walk in. Super clean, really tasteful and modern country decor, lovely log burner and hot tub was icing on cake after lots of days out visiting and walking.
Stephanie C said "What a wonderful place" December '19
What an amazing get away. With great attention to detail, big comfortable bed, amazing shower and water pressure, the hot tub is so much fun and right on the back door step.
Rob C said "Great spot, great place, great hot tub…..just great. Chris' cooking is worth trying also :-)" November '19
What a great place in a lovely setting. The lasagnes were awesome…..I actually preferred the Vegan one, now that is a first!
Kelly M said "Peaceful and private, we had a lovely week of feeling totally at one with nature 😊" October '19
The barn was spotlessly clean, and the management couldn't do enough to help. Would definitely recommend, and would love to return in the summer!
Sharon T said "Warm and comfortable. Wonderful log burner."  October '19
Hosts were extremely helpful and went out of their way to assist by going to buy a new DVD player when we had problems with the existing one. They provided plenty of extra things too for the young children. It is a quiet and peaceful place in which to relax – especially with the hot tub. We enjoyed some interesting walks around the grounds and to the river.
James S said "Olivia's place is beautiful. It's situated in beautiful countryside and the farm itself is huge." October '19
We really enjoyed the trip and loved walking around the farm, the woods and down to the private beach area. It was so quiet and relaxing and Olivia and Ed were great hosts who did everything they could to make the trip wonderful. Highly recommend getting a massage on the premises and then dipping into the hot tub! Thanks!"
Abi K said "Wonderful stay at this very sweet cottage." October '19
Was perfect for walking and seeing the local area, we especially loved the Highland Cows that were on the farm. We visited Looe and Plymouth and went for lots of walks just from the cottage which was perfect. Hot tub was lovely addition in the enclosed garden over looking the orchard!
Alex S said "We enjoyed a very relaxing stay at the barn. "  October '19
A good quiet location with a really great finish to the barn. The hot tub was an added plus! The barn was immaculate when we arrived and Olivia was a great host.
Tegan A said "Thanks for the great few days. We had a great time and loved the peacefulness of the cottage. Will recommend to anyone travelling to this area!" September '19
This cottage is in a wonderful location if you are wanting a peaceful, quaint getaway. The hosts offer plenty of amenities if required. A bit of a drive to other attractions in the area but that did not bother us as we don't mind the drive. Also, there are plenty of things to do on the property. There are footpaths through the property that reach a secluded shore on Tamar River which was absolutely beautiful. We enjoyed the games room which had table tennis and relaxed on the hammock near the orchard. The cottage had all the necessities for self catering and the hot tub was a great bonus. Would recommend this stay to anyone looking for a quiet, relaxing holiday!
Matt L said "This place is beautiful." September '19
The accommodation is refurbed to a brilliant standard. Lovely space. Great local walks, a beautiful park of the country.
Alex S said "We had a fabulous stay and loved every moment of the beautiful location and the animals." September '19
Fantastic location, views are stunning and so peaceful. Also the ducks and chickens which greet you every time you arrive back are just fabulous. The accommodation is lovely and more than adequate. Hot tub was nice and relaxing. Olivia was a fab host who was always on hand if you wanted to ask anything and was very welcoming and friendly.
Sacha R said "Lower Marsh Farm was a perfect base for us to stay with our four small dogs" August '19
Orchard Cottage was absolutely lovely. Really clean, secure garden (for our dogs) & the hot tub was the icing on the cake. Had a great week there & intend to come back.
Simon H said "A lovely property very well kitted out, which is in a great location to explore the local area particularly If you like walking!"  August '19
Lovely accommodation and great location for our brief business & leisure stay.
Jennifer W said "Rest in the country" August '19
We had two wonderful weeks at Orchard Cottage. Olivia is a great hostess and we were warmly welcomed on arrival. Fresh flowers and a welcome basket of treats from the farm and Cornwall awaited us in the cottage. The cottage is very well equipped and even in bad weather you can make a good bequest. We will definitely go back to the farm again.
Phillip T said  "Bulrush Barn is an amazing place to stay, not only is the accommodation stylish, the setting is very peaceful and tranquil" August '19
Thank you for being a great host. Bulrush Barn was beautiful accommodation and an incredible setting, we really enjoyed our stay!
Margaret W said "I can not recommend this highly enough" August '19
If you want a quiet spot and a friendly welcome, I can not recommend this highly enough. Olivia is an amazing host. The barn was clean comfortable and peaceful. With walks and activities on the doorstep and close to Plymouth, there are lots of things to do. Or a perfect spot if you just want to relax.
Stacey H said "Thank you so much for a beautiful place to stay, we can't wait to come back" August '19
The most beautiful, tranquil place. The barn is stunning & had everything you could need and more. We had some fabulous days out, Looe, Plymouth, Newquay but we all couldn't wait to get back to the barn each evening! We will most definitely be back.
Mieke R said "This is such a lovely house! " July '19
The house is beautiful renovated. The bathroom is wonderful with a bath and a great shower. The bed is huge. They have a little playground for children in the garden. Our little one had a lot of fun. Highly recommended.
Rosanagh R said "Wonderful experience, beautiful recently renovated property. " July '19
Wonderful experience, beautiful recently renovated property. Kitchen and bathroom separate and well designed studio. Lovely garden and broader property to play tennis, walk and roam. Great for families too with lots of activities.
Adam M said "We had a lovely stay, the barn was perfect and such a peaceful location. Thanks for everything." July '19
The perfect place for a peaceful rural retreat. Bulrush Barn is lovely and cosy, very well kitted out and a great size for 2 people and a dog. Olivia was very helpful and we were fortunate to be able to explore the farm during our stay. There are lots of nice walks and things to see, but also very quiet and peaceful. Made a very nice change from our usual city break. We shall be back for sure!
Jasmine G said "What a gem! We had a peaceful stay with our two dogs."
Take advantage of Lily, the massage therapist who comes to farm, she was amazing! The place was clean and had everything you needed there. So many nice walks on the grounds of the farm and surrounding area. We'd highly recommend staying! July '19 
Rebecca H said "Lovely cottage! Exactly as the pictures are with private garden that was great for our puppy and the hot tub was a bonus! "  July '19
All amenities working and great to have a dishwasher and washing machine!
Matt C said "Sparkly clean and a great location, dog friendly with lovely touches such a local apple juice and flowers on arrival." July '19
Thanks for having us- we very much enjoyed our stay!
Dan S said "House was lovely . Had everything that we could have wished for with our new baby" June '19
Excellent communication. We would recommend the apple pie on arrival that was particularly delicious!
Chintan T said "Great barn, lovely and responsive hosts… " June '19
Olivia greeted us as soon as we got there, told us about local shops and such, place was really clean, accommodated last minute requests for baby stuff (stair-gate, high chair and much more), responded quickly to any issues we had and also had nice personal touches (little treat in the kitchen when we got there, had family games, books to read, etc). Would definitely consider staying there again if we go to Cornwall again. Thanks for a hassle-free stay!
Xia P said "All in all a fantastic stay and would definitely book again!" June '19
The team at Lower Marsh Farm have thought of everything you could possibly want in a self-catered stay! We stayed for 3 days as a mini-moon after our wedding to get some peace and quiet and relax. We were not disappointed! I was able to book some romantic extras upon our arrival at the cottage such as rose petals on the bed, and a breakfast in bed hamper, and we were also surprised to find some delicious "Mr & Mrs" chocolate cakes left for us! I also ordered a dinner for one night which was the most delicious fish pie I have ever had! And there was enough left over for dinner for the next night! The hot tub in our garden was amazing! Despite being in the middle of the farm, we felt so secluded. It was lovely having the ducks and hens around the pond just over the fence, we loved listening to them quack and chirp, and watching the little ducklings waddle around. Finally, I had organised some pampering treatments which were absolutely amazing! Such a bonus to help us relax and de-stress at the end of our mini moon!
Stacey W said "One of the most beautiful places you could ever stay. We ran a retreat here and the 5* service, hospitality and venue definitely exceeded our expectations. Thank you to Olivia and her team, we will certainly return." May '19
What a treat to get to teach such friendly, open hearted, open minded people in a beautiful setting. We arrived, we moved, we ate, we drank, we moved a bit more, ate a bit more…. you get the idea! Thanks to our retreaters and our wonderful venue for a memorable weekend.
Calvin F says "very well presented: nicely designed, clean and very comfortable" April '19
We stayed at the Bulrush Barn, Lower March Farm for 4 nights at the very end of April 2019. The Barn was very well presented: nicely designed, clean and very comfortable. Central heating and hot water is excellent. The Barn is situated in a lovely cobbled courtyard and the surrounding country side is beautiful, as you would expect. Watch out for the single track lanes, ubiquitous in the area and the only access to Lower Marsh Farm. Once you get used to them they are less 'scary' but expect to have to do some reversing during your stay. Olivia was a charming host and was available if anything needed sorting out. On our last morning ducklings were hatching and she invited us to see them, which was a real treat! Overall, our stay at the Barn was excellent and we would be happy to stay again, if the opportunity arose.
Kate W says "Perfect place to stay" April '19
We stayed in Orchard Cottage at Lower Marsh Farm. The cottage is beautiful with everything you could ever need supplied. The hot tub was great and ready to jump in on our arrival. We took a 6 year old who loved every minute. Nice private walks around the farm and to the beach. Play area, games room and much more to keep you entertained at the farm. We went to a great animal sanctuary called Porfell and the Jamaica inn one of the days which was a great day out. We loved the ducks and chickens just outside the cottage garden and the beautiful views from the hammock. Would 100% recommend and love to return for another stay again some time.
Rebecca J says "The most beautiful and idyllic barn – the location was outstanding – so very tranquil and relaxing. The barn is extremely clean and the most amazingly comfy bed!" April '19
We so enjoyed our stay, the barn and it's location were beautiful. The bed was so very comfortable and lovely bed linen too. Lots of very useful utensils/resources in the barn. Extremely handy being able to pre order meals and breakfasts which were very good indeed. The barn is reached by quite a few lanes but within 6/7 mins you are on the main road; the location is amazing and the views of the river are beautiful as are the walks around there. We travelled to Port Isaac, St Ives, Cawsand and Looe very conveniently from Landulph. Would highly recommend.
Ennio D says "We loved our stay at the Orchard Cottage" April '19
Olivia and her family are great hosts, the farm is beautiful, quiet and our dog had a great time too!"
Sandy D says "Beautiful location and facilities" April '19
Lovely hamper of goodies on arrival and the kids loved fetching fresh eggs for breakfast every morning. House was lovely and spacious and the hot tub was a great finishing touch.
Paul S says "Great family property, very relaxing and good location for exploring the area" April '19
Really enjoyed our stay in the Kingfisher Barn. The location was great for exploring the area, we visited a couple of National Trust properties, took the kids for the day to the local Adrenalin Quarry, which was good fun. Facilities at the barn were great, played table tennis and tennis several times and then have a relaxing soak in the hot tub in the evenings. Would highly recommend.
Helen Y says "Beautiful and peaceful accommodation bordering a stunning salt marsh and nature reserve." March '19
My wife and I stayed here for our first anniversary near the end of March 2019. The owners were incredibly welcoming, friendly and easy to talk to & get along with. Plenty of local history information, suggestions and directions for sights of interest, eateries and pubs, wildlife spotting and activities throughout the year. A very well furnished games room, tennis court and our cottage had a hot tub in the garden. Great walking links to the salt marsh, estuary and local village, with a wide selection of wellies available 🙂 ) Wildlife galore in the surrounding fields and woodland! The cottage we stayed in (Orchard Cottage) was fully equipped with modern touches with vintage rural charm, including exposed original wall structure and a wood stove, while the electric heating was great. The sight that welcomed us was a running water wheel. Waking to the sounds of birds, and meeting the farm's ducks, chickens and peafowl was fantastic, as were the grazing highland cattle Certainly will look into bringing a family group here in the future.
Piers O says "We visited Bulrush Barn in January as a birthday treat.  We weren't disappointed!" February '19
We walked in the grounds during the day and there is plenty to do and see but we especially looked forward to getting back to the cosy barn and lighting the log burner. The bed was very comfortable and the linen was clean and crisp! The bathroom was well fitted and sparkly – I do like a sparkly bathroom! Olivia and her team were very helpful and although they were there when we needed them, they were noninvasive and we really felt like we were in our own world! Wonderful place – we will return! Thank you for helping to make a short break feel like a great holiday!
Tina M says "Lovely well equipped cottage which was in a great location." February '19
…great location allowing us to explore the surrounding area including trips out to Eden, Cotehele, Mount Edgcumbe as well as the local footpaths and beaches. The cottage was warm and cozy with a hot tub available to sooth tired muscles after a day on our feet.
Andy L says ""Outstanding place for a relaxing break. Highly recommended."  February '19
We had 4 adults and 4 children. All thoroughly enjoyed it. It's a little remote but taxis are not a problem and the quietness added to the enjoyment. The cottage is set over two floors with plenty of room for everyone. There is a games room and a hot tub. We enjoyed a walk to the estuary and took a taxi to the pub for a fantastic meal. A really relaxing break and we thoroughly enjoyed it. We will definitely recommend it to friends.
Jeanette  Y says "Such a beautifully quiet location and a perfect place to stay to recharge your batteries. Very clean and cosy, cannot recommend staying here enough ."  January '19
Thank you Olivia, after a traumatic 2018 we both needed some relaxation and time away from the daily stress, your cottage and location allowed us to chill-out and just be ourselves xx
Tom S says "Great accommodation in a lovely, quiet location right by the Tamar estuary." January '19
Kingfisher Barn is well-equipped and the hot tub and games room are nice touches – as are the free-to-borrow wellies for walking the marsh! Olivia is a responsive and helpful host. Everyone loved the barn and the quiet location. Thanks for all the little extras like the apple juice and fudge.
Callum M says "the barn was absolutely beautiful. it was sparking clean, gorgeously decorated and had everything you could need." January '19
When we arrived there were some amazing home made goodies, fresh flowers and a Christmas tree which was very thoughtful. The bed was huge and incredibly comfy and the shower was amazing. There is everything you need to do any cooking and there is a dishwasher too. The log fire was one of the highlights (although the barn was lovely and warm without it) and logs were provided. We went with our two dogs and Olivia is very accommodating, with towels and dog beds to borrow if needed, and they enjoyed saying hello to the lovely resident lab. Although dogs are allowed you would have no idea, it is spotless and fresh. The farm is on a huge plot of land with country side walks and it has a small private beach. The location is perfect for exploring both Cornwall and Devon. We would definitely recommend it and would come back to stay again
Jessica C says "Was a lovely cottage escape for me and my partner" December '18
We enjoyed the hot tub, wood fire and the lovely thoughtful touches of a Christmas tree and welcome pack information and refreshments. Olivia was very easy to contact and quickly replied.
Ian P says "Thank you for enabling us to have a great family Christmas" December '18
The location and quality of the venue are just as described. If you want a quiet and well appointed place to stay then you won't be disappointed. The hosts Olivia and Ed were extremely helpful and made our stay memorable.
Colette D says "Thank you so much for providing such a lovely place for us to stay. I will definitely recommend to anyone who asks! " November '18
This is a lovely place to stay. The pictures are very accurate and the house is very well equipped. We didn't want for anything. The wood burner is fabulous and made the place cosy and warm even thought the living room is big and spacious. If you need to be in that area then I think this is a great place to stay.
Michael L says "The house is lovely for groups up to eight people with spacious living area." November '18
Spotlessly clean with good facilities for families including games room, tennis and hot tub, DVDs and lots of books. Comfortable beds and a real wood fire for those cold evenings make this large property feel cosy.
Marcelle M says "We expected it to be great from the photos and reviews, but it was even better than we expected" October '18
The place is amazing. It is comfortable and in a great location. The amenities are fantastic and everything you need is there – including a bottle of milk and some tea/coffee etc. The place is spotless. The surrounding area is amazing – lovely walks and views. Our daughter loved the hens and ducks and the dog. All very friendly. And the play area is amazing too. I can't wait to go back.
John D says "Thanks for a lovely stay, the three of us had a wonderful break on your perfect farm" October '18
I'd wholeheartedly recommend Orchard Cottage to everyone, Olivia is the perfect host, offering advice on the local area and providing a wonderful, clean and comfortable space to rest and base your travels around such a beautiful part of the country.
Adrienn B says "We all really enjoyed our stay at your lovely barn! Definitely coming back in the future!" October '18
This was one of our most relaxing holiday as a family! Kingfisher Barn has absolutely everything we needed! Our kids loved the game room as well as the tennis court(they were cycling around a lot 😊). The hot tub was everyone's favourite! Dads loved the fire place! We had great big walks in the forest and private beach too. Olivia is a friendly and helpful host! We are definitely coming back again in the future!
Olie B says "Great space, very relaxing and well located" October '18
Erika O says "A magical place that is both adult and kid friendly" September '18
King Fisher barn at Lower Marsh farm is a fantastic retreat down west country hedgerow lanes. A magical place that is both adult and kid friendly. Plenty of space, with four bedrooms on the lower level. Our daughter (age 4) had a wonderful time exploring the property and walking to the shoreline. The ducks and chickens were also a hit! The welcome basket of Cornish goodies was a lovely touch and thoroughly enjoyed. Highly recommend!
Ella P says "A fabulous place to go when you need to get away from it all" September '18
Peaceful and charming. Great for a bit of tranquillity and cosiness at the same time! A perfect place to have needed family time or alone time. Beautiful surroundings and a lovely house which was very homely. Loved the farm environment with the ducks greeting us every morning. If we needed anything Olivia was there to help, always on hand. Overall a lovely time away in this amazing place.
Jade G says "Absolutely fantastic stay. Beautiful location and fantastic amenities." September '18
Thank you for a lovely stay we had a fantastic time and you have a beautiful barn.
Emma C says "Perfect for a break away from the hustle and bustle of a big city" September '18
My boyfriend and I spent 3 nights at Lower Marsh Farm (Bulrush Barn) and it was perfect for a break away from the hustle and bustle of a big city. It was lovely to be greeted with some fresh apple juice from the farm and Cornish fudge too, a lovely touch. The farm is beautiful, peaceful and great for those who just want to relax as it is really off the beaten track. Having said that though, there are lots of leaflets in the barn that can give you ideas of things to do and walks to go on whilst you're there. We enjoyed Adrenalin Quarry, cream teas in Newquay and a walk up St Michael's Mount! The barn itself is modern and spacious with everything you could want during your stay! It was really homely and comfortable. We also loved the table tennis table in the games room! Olivia has thought of everything and we hope to return in the future.
Dominique B says "Wonderful stay. The property is beautiful with lots to do" September '18
We enjoyed the BBQ area and free wood onsite, the hot tub was a definite highlight and the tennis courts were lots of fun. The games room and access to wellington boots helped us when we went for a hike in the forest and down by the beach. The beds were comfortable and all had lots of pillows and duvets. 2 bathrooms was good for six people and the kitchen is kitted out with everything we needed. The cellphone connection is good as well as having the wifi, so although you feel off the grid and able to relax, if you do need reception, you can get it (as non outdoor people we got a bit lost on our walk, so it was good to be able to Google map our location). It was a lovely 4 days. Olivia left some lovely thoughtful gifts for us on arrival, freshly squeezed apple juice, fresh eggs, some fresh milk and some fruit. Thanks Olivia, we had a blast.
Rachael M says "the beds are extremely comfortable, we did not want to leave" August '18
A beautiful barn in a wonderful setting. We stayed at the barn for 3 nights and had the most amazing break, the owners were very helpful and on hand if needed but without being intrusive and the barn itself and setting was just beautiful, the barn is immaculate and beautifully decorated with modern facilities, it is fully equipped with everything you could possibly need, the beds are extremely comfortable, we did not want to leave! We would definitely stay again and again!
Owen C says "Everything was fantastic. Thanks very much, we had a brilliant stay. I particularly loved the bathroom which had a very high-standard finish." August '18
A really beautiful barn conversion with a rustic country home feel, though all the facilities were of a very high standard. Expense has not been spared. The location is remote and wonderfully quiet but there's a great many places to visit within a 40 minute drive.
Jessica F says "Orchard Cottage is absolutely beautiful" August '18
It was very clean and had everything you need. The area is stunning and it is close enough to local attractions. The hot tub was definitely a bonus!
Harry P says "The perfect relaxing break away from the city" August '18
Friendly host, in a gorgeous location. Would love to return highly recommend.
Jessica A said "A beautiful house in a beautiful location" August 2018
Relaxing and extremely comfortable with something for all ages. We took five children with ages ranging from 17-9, and no one complained once that there was nothing to do! The hot tub was a hit!! Highly recommended! "
Sarah C said "A really good place to visit with a baby" August 2018
"A lovely stay. The cottage was beautiful and the hot tub was an amazing addition! A really good place to visit with a baby – Olivia sent me a list of baby items I could borrow which was so useful. A lovely holiday.
Burnadette P said "The house had everything we could possibly want and need. Lovely relaxing weekend" August 2018
We had a great weekend at the Cottage, the surrounding farm was just lovely with all the animals and we loved relaxing in the hot tub every evening.
Sue F said "Lovely cottage, hot tub a real treat, and very friendly host" August 2018
Location easy to find and lanes are not too narrow to navigate. Kids had a lovely week in the cottage and it's a very relaxing place to stay.
Ollie B said "Cosy is an understatement for this property. The bed is incredibly comfy" August 2018
More than recommend for a couple! Olivia could not have been more helpful with information about the surrounding area and left us a nice bottle of apple juice made from the farm itself. And a bag of amazing rum and raisin fudge. Had everything that was needed in there. And the bed is incredibly comfy! You will not want to get put of the shower once you get in it as well. Highly recommend this place.
Carla N said "The Barn is lovely – beautifully decorated, clean and some thoughtful touches." August 2018
The location is great there are lovely walks to the estuary. We had a great stay and we are looking forward to coming back!
Jacqui S said "It was the perfect base from which to explore South Cornwall and nearby Devon." August 2018
My husband and I had a lovely relaxing week staying in Orchard Cottage. It was immaculate throughout; the welcome basket was excellent, packed with local goodies! It was so peaceful and we enjoyed walks along the salt marsh and along the beach – the wellies available to borrow were a godsend! We enjoyed our duck neighbours and visits from the beautiful golden retriever too.
Samar S said "A perfect place for families with young kids. " July 2018
No need to leave – lots of walks out the door. Fantastic play areas all around the farm. The indoor space was great for family time. We will be back!
Rebecca S said "A spectacular place to stay." July 2018
Lower Marsh Farm has everything you need from exploring to a pamper day. We couldn't have wanted for anymore. Olivia left us to explore and enjoy our time but was just at the end of the phone or across the yard if we needed anything. We went with friends which consisted of four adults, a 7 and 8 year old, a 13 year old and a dog and we all had the most amazing time from hours in the hot tub to bridle paths that lead you straight to the River Tamar. A wonderful time was had by all.
Jonathan T said "Perfect stay and perfect place to unwind." July 2018
"A wonderful isolated cottage. Close enough to explore but far away enough to relax and unwind. A wonderful secluded hot tub and lovely garden with a BBQ ready to go! Nice cosy cottage with all the amenities required Olivia was on hand if needed but not over bearing or in the way.
Suzanne H said "Well what a gem of a place. " July 2018
Perfect for families and dogs. Exactly as advertised and lovely touches too with fresh milk, apple juice and fudge as well as fresh flowers. Just perfect.
Rohan W said "Very well kitted out and hosts were extremely kind." July 2018
Lots of things to do on site and close by.
Karen B said "So peaceful and quiet. Lovely games room and super clean cottage" July 2018
Super clean cottage with everything we needed in the kitchen for cooking and storage. So very peaceful!
Gavin B said "Would love to stay again" July 2018
Truly beautiful cottage in a wonderful location. Would love to stay again. VERY family friendly.
Danuta L said "an idyllic place, perfect for my grandchildren" July 2018
We stayed at the barn…..an idyllic place, perfect for my grandchildren…..open space, quiet, with a playground for the children…..they love the ducks and the peacocks! The owners are really helpful and do all they can to ensure your stay is perfect….they took an emergency call for me and kindly helped me sort it out. Lovely basket of goodies welcoming us…..they also received our shopping and put away things that needed to be refrigerated….. Book and go!
Adam B said "Thank you once again, awesome as last time" July 2018
It's a little out the way but so worth the trip, walk down to the estuary and take a trip to eat at the "who'd have thought it inn". Also enjoy the garden, we loved the entertaining night flights of the bats.
Kim-Roberta S said "Beautiful location and stunning accommodation. "July 2018
Olivia and Ed just lovely and warm friendly staff. Farm animals were adorable and the local wildlife charming. Thank you Olivia and Ed we hope to return. Highly recommended.
Peter B said "Peaceful, tranquil farm with fantastic amenities" June 2018
Thank you for a brilliant restful stay, we loved Skye and the farm animals and wouldn't hesitate to return in the future.
Tom C said "Well dressed property, very quiet and relaxing area." June 2018
We stayed 3 night and there was 6 of us. House was plenty big enough. We had a bbq each night and relaxed with the hot tub whilst watching the stars. Games room and tennis court was nice if you didn't fancy driving anywhere
Christian S said "Had a family birthday celebration here. We all had the most amazing time." June 2018
It was absolutely perfect for our needs – ideal whether you are 10 or 75! Everyone loved it – the upstairs space is fantastic and the idyllic setting, the tennis court, the games room, the animals, the wood, the walks and everything were brilliant. We felt welcomed and totally at ease from the first minute!
Claire H said "What a wonderful week we had. " June 2018
Enjoyed the beautiful surroundings. Had everything we needed, the tennis court and games room was a hit with my daughter. Our dog Alfie had a great time here and didn't want to leave. The cottage was just right for the 3 of us with the hot tub a nice addition. The welcome hamper was a lovely touch and was very much enjoyed. Look forward to revisiting very soon!
Madeline L said "Lovely location, very comfortable, well appointed property." May 2018
We were made very welcome and had easy access to the farm and surrounding countryside. Would love to return and explore more! Thanks for a lovely stay!
Magda S said "Lovely place with lots to do" May 2018
The barn is very spacious and comfortable for 2 families. Beds and linen is top quality. The owners were friendly and helpful, they offloaded our on-line food delivery before our arrival making our arrival effortless. There was also freebies of eggs, milk, juice and fudge which was a nice touch. There is plenty to do around the farm, with a tennis court to play sports, basketball hoop, walking around grounds and the friendly animals kept our kids entertained. The 2 peacocks, ducks, chicken and a golden retriever all got named by our kids. The playroom is awesome on a rainy day you can play table tennis and there are some toys for small kids.
Ellie SJ said "Thank you for you kind touches. It made our friends mini moon." May 2018
Olivia responded quickly and was able to provide support and information before arrival. We booked this as a mini moon for friends and they loved the peaceful setting and kind touches.
Ashley W said "Great!!! We had a great time, beautiful location." May 2018
Great!!! We had a great time, beautiful location.
Sasha A said "Perfect place for a weekend away, beautiful setting!" May 2018
Great!!! We had a great time, beautiful location.
Tash C said "Fab place to stay" April 2018
Beautiful, quiet setting, lovely cottage and the hot tub just makes it!
William S said "Amazing place in a lovely secluded setting." April 2018
Amazing place in a lovely secluded setting. Highly recommended.
Denise B said…"The barn is fabulous." March 2018
We have had a long weekend at Kingfisher Barn to celebrate my mother's 80th birthday. The barn is fabulous. The hospitality and information about the Barn and locality was superb. The beds were so comfortable and the upstairs was large enough for the 3 families to get together. We had a wonderful time.
Tracy E said…"Perfect host, perfect location." March 2018
Clean and welcoming stay for a weekend away. Use of the hot tub really added another layer of relaxation to our break. Lots of information about the local area was really helpful. Such a peaceful location. Would definitely recommend.
Clare B said…"Had a lovely stay at Kingfisher Barn, the place was a great size and perfect for a large family or a friends gathering." January 2018
We particularly liked the use of the games room and hot tub, which we easily spent a couple of hours chilling in both. I booked afternoon tea for my partners birthday and he loved it, perfect touch on arrival to the Barn for a small charge. Also enjoyed a stroll (although muddy) around the farm being greeted by highland cattle and then on to a beautiful shingle beach, with a great view of the Tamar Bridge. Thank you for hosting us and if we are back in the area we would definitely stay again.
Older reviews from 2015 to 2017 are here.