The Lost Gardens of Heligan were exactly that – lost gardens!  Heligan Manor, near St Austell, Cornwall, was built in 1200 and from then on, the estate and gardens were developed and added to at various stages, right up until the first world war when most of the 22 men working in the gardens went to fight for their country, 16 of them did not return.  Over the subsequent decades, the house was tenanted out, until it was converted into flats and sold off in 1974.  It wasn't until 1990 that Tim Smit and John Willis (a descendant of Sampson Tremayne who bought the house in 1569) discovered a small room, buried under fallen masonry, they opened a gate which lead into the derelict gardens, they could not believe what they had found.
It became Tim and John's passion to gradually clear the years of ivy, weeds and brambles, and over the next 3 decades teams of workers set about restoring the gardens to their former glory.  They now include a collection of walled gardens with productive flower and vegetable gardens, an Italian garden, an Alpine inspired ravine, a 'jungle' filled with sub-tropical tree ferns, Europe's only remaining pineapple pit and their aged and famous collection of rhododendrons and camellias.  Thankfully, much of the original planting has survived the many years of neglect!
It is now a intriguing garden for keen gardeners and yet with stunning and accessible features for those less green fingered. There are also plenty of animals to see and meet including sheep and pigs used to help maintain the land. In recent years their facilities for children have been extended and are now very exciting – from the green large sculptures around the garden, to woodland climbing courses (suitable for toddlers to teens!), the jungle area and a wide open green space with lots of playground equipment plus during the school holidays fantastic activities.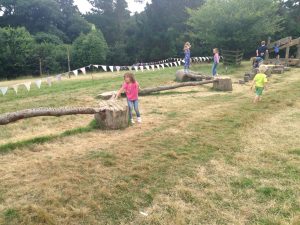 After your walk around the beautiful gardens, take a trip to the licensed tea rooms, where you can enjoy the relaxed atmosphere for morning coffee, delicious home cooked lunch or afternoon cream teas, or visit the shop which sells quality items, many of which have been designed, made or grown by staff on site, providing a unique memento of your visit to this piece of paradise.
During your stay at Lower Marsh Farm, we can offer you discounted tickets to the Lost Gardens of Heligan which is under an hours drive from here.