The salt marsh at Lower Marsh Farm is part of the Tamar-Tavy Estuary. A marine inlet on the Cornish coast into which the Tamar and Tavy rivers flow.  Lower Marsh Farm was made a Site of Special Scientific Interest in 1991, due to its international importance for nature conservation.  In particular for its  wintering site for wildfowl and wading birds, the national importance of the marine biology. We also have rare and rich flora and fauna on the site.
The Sea Wall
The marsh is cut off from the estuary by a sea wall (built in 1810), once used to drain Landulph Marsh to provide grazing pasture.  The salinity of the land varies. The fresh water entering from the rivers and the sea water entering from the sea wall. These provide habitats for a wide variety of flora and fauna.  The majority of the marsh contains soft rush, with greater bird's-foot trefoil and water mint.  Other species include marsh thistle, fleabane, wild angelica and broad-leaved willowherb.
Grasses include wavy hair grass with sweet vernal grass, and the locally scarce species plicate sweet-grass and hard-grass.  Yellow flag iris dominate the back of the marsh, with water mint and floating sweet grass on the surface of the water.  You can find mixed scrubs and mature trees around the sea wall. Hawthorn, elder, blackthorn, holly, oak, cherry, bramble and gorse.  The marsh also supports an area of mud flat which is exposed at low tide when the marsh drains through the flood gate in the sea wall into the estuary.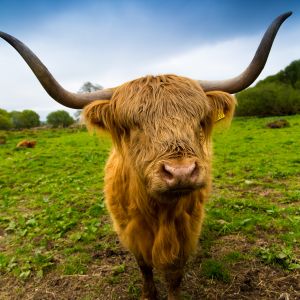 The Salt Marsh is also an important site for waders which leave the estuary at high tide and feed on the marsh.  Scarce birds have also been recorded at the salt marsh.  Glossy ibis, water pipit, water rail, green sandpiper, avocet, little egret and kingfishers to name but a few.  Other species recorded include great crested grebe, dunlin, curlew, shelduck, bartailed godwit, golden plover teal, sedge warbler, heron and barn owls.  There is also a good population of the short-winged cone-head cricket.  You can often hear Maritime rushes chirping away.
The marsh is also home to the 4 beautiful resident Highland Cows. Their grazing conserves the habitat. It's a natural way of helping to keep the vegetation under control to maintain its open aspect. With gentle cropping they help maintain biodiversity of the landscape. Slowing the invasion of trees and helping the marsh to flourish.