Date/Time
Date(s) - Thursday, 14 March 2024 - Sunday, 17 March 2024
3:00 pm - 12:00 pm
Location
Lower Marsh Farm

Yoga and nutrition retreat for midlife needs – from perimenopause to the years after menopause
Arriving on the Thursday afternoon, to join a group of others navigating similar circumstances, this 3 night retreat will help you find your way through the challenges presented during midlife. For some, the time leading up to and after Menopause brings such a myriad of physical and emotional changes it can be overwhelming and lead to feelings of isolation, anxiety and irritation which also affects your loved ones. Often these changes occur when we are already dealing with busy and stressful family lives, be that from our children, partners, ageing parents, even pets can cause additional emotional workload! This retreat offers a supportive community, expert advice and some time just for you – to rest, to learn, to take the time to reflect on your own personal circumstances – while enjoying being looked after by others for just a few days of respite.
Staying in beautiful comfortable accommodation at this award winning location in the stunning Tamar Valley on the Cornwall / Devon border. Direct trains are available from London Paddington to Plymouth in under 3 hours, then it is a short taxi ride to Lower Marsh Farm.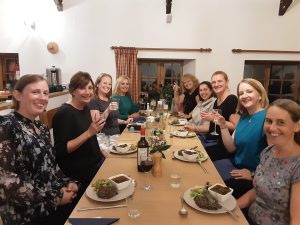 The weekend includes;
comfortable accommodation,
all your meals, refreshments and snacks,
6 yoga classes,
2 nutrition workshops,
unlimited usage of the amenities – hot tubs, wild swimming, tennis,
fire circle.
Yoga classes will be led by Michelle Spencer, who specialises in helping women going through peri-menopause and menopause. The sessions are specifically designed to help with symptoms such as;
irritability,
hot flushes,
insomnia,
stress, anxiety and brain fog.
Nutritionist, Claire Mac Donald will be leading workshops discussing how food can help reduce the symptoms of hormonal changes such as weight changes, mood, tiredness and more. Learn about gut health, cortisol management and hormone balancing. Claire is also a very experienced Osteopath able to offer advise on the various aches and pains that trouble us.
The maximum number of participants is 15.
About Michelle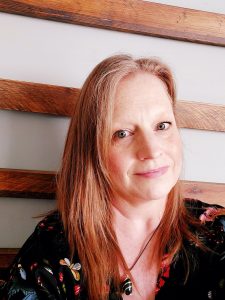 Yoga classes will be led by Michelle Spencer, an accredited Menopause Yoga teacher, who spent a few years helping teach other yoga teachers how to lead menopause yoga sessions.  The sessions will be structured the same as her weekly "Midlife and Me" yoga classes, a sanctuary for women in their midlife journey. This sessions provide a safe space for women to cope with the multifaceted challenges this stage of life brings, from caring for children and aging parents to managing brain fog, anxiety, grief, mood swings, and maintaining overall health. Michelle's approach is gentle and accessible, ensuring that even those who have never attended a yoga class before can leave feeling accomplished and rejuvenated.  Each session will have a breathwork, gentle yoga practice, meditation as well as relaxation component. Michelle empowers women to embrace the mental and emotional benefits that yoga can bring, helping them find their inner strength and navigate the path of midlife with grace.
Michelle's advocacy extends beyond the studio walls. She hosts a weekly well-being radio slot where she shares insights on midlife women's health. Her meditation podcast on Spotify provides a resource for women seeking tranquillity and inner peace, while her blog delves into various aspects of midlife wellness, offering a wealth of knowledge and inspiration.
About Claire
Claire Mac Donald is an Osteopath, Nutritional Therapist, and Homeopath with over 25 years of experience in healthcare. With a commitment to personalized well-being, Claire is passionate about empowering and supporting individuals to reach their optimal health and vitality and ultimately take charge of their own wellness journey. Her approach blends the principles of Osteopathy and Nature cure, with her extensive studies in health care and life sciences and collaboration when necessary, with a wide variety of healthcare professionals.
An avid reader of scientific research, ancient healing practices, and holistic wellness alike, Claire's recommendations are thoughtfully curated to provide a comprehensive approach to health. She actively engages in educating communities and patients on attainable methods for achieving optimal well-being.
With an extensive career spanning the UK, Claire has operated clinics in Leeds, Manchester, Surrey, and for the past 12 years, she has been based in Twickenham. Her role as Clinic Director and clinic tutor at the Manchester Osteopathic Centre for Children highlights her commitment to specialized care for young patients.
Claire is passionate about holistic well-being, empowerment and optimal healthcare practices for all. In her quest for promoting health, healing, and happiness, Claire is known for fostering beautiful and nurturing environments where both patients and colleagues thrive. Her dedication to creating spaces that inspire effective treatment and care underscores her commitment to health and healing. With an emphasis on vitality, positivity, and a deep understanding of wellness, Claire looks forward to every day at work.
Optional extras
Optional extras available during the weekend include:
massage treatments,
guided nature walk,
guided wild swimming.
1-2-1 nutrition consultations,
cranial osteopathic therapy.
The food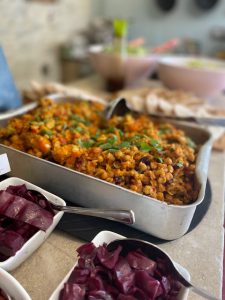 All meals are included (breakfast, lunch and dinner) plus refreshments and snacks throughout the weekend. Lower Marsh Farm has an excellent reputation for serving nutritious but not boring meals, prepared from scratch using seasonal ingredients, many of which are grown (using regenerative practices) at the farm. You will enjoy tasty healthy filling dishes in an environment where food is to be enjoyed and laughter fills the air.
Anne N said… "I'd just like to thank everyone at Lower Marsh Farm for a fantastic stay this weekend. I was really grateful to be able to come down on Thursday. It is a beautiful place, the food was amazing and everyone involved made it a perfect break." May 2023
Katie B said…"Just wanted to drop you a quick line to say a huge thank you for such a wonderful weekend. Really enjoyed your beautiful surroundings, the delicious food, and the muddy walks! I am still smelling those hyacinths you put in the room for us :)" March 2019
June H said…"Spent three nights here – lovely location and really nice accommodation with hotel standard service. I was on a retreat so food was provided and it was absolutely lovely. Couldn't fault it and would certainly recommend." November 2017
You are welcome to bring alcohol for your own consumption if you wish. The weekend is going to be fun not formal and poker-faced – a little bit of what you fancy is not a problem!
Accommodation options
Orchard Cottage – single occupancy at £1,120 or twin occupancy at £735 per person.

The luxurious option with your own private living space, garden and hot tub. Lovely for just you to enjoy your own haven, or bring a friend and put the world to rights in the hot tub!

Bulrush Barn – single occupancy at £1,120, twin occupancy at £840 per person or triple occupancy at £747

The luxurious option with your own private living space, separate bedroom, garden and atmospheric log burner hot tub. Great if you are coming with a friend or two.
Kingfisher Barn – single occupancy room at £850 or twin occupancy at £635 per person.

Shared living in this spacious atmospheric 4-bedroom barn conversion, garden and hot tub.

Glamping style, absolute tranquillity – single occupancy at £850, twin occupancy at £635 per person

Enjoy the beauty and open space in these stunning meadows, sleeping comfortably in stylish, insulated yurts with log burner and a proper bed. Relax in shared hot tub.
Bookings
Do you already have an account with us?
Sign In
Log in if you already have an account with us.