Lower Marsh Farm, is dedicated to an Eco-friendly way of life. That even extends to the method with which we light our log-burners, using Eco firelighters.
At our self-catering holiday accommodation, we use wood firelighters.  Wood firelighters are made from completely natural materials, and are used to light anything from the log burner to the barbeque.  With no nasty chemicals either (or nasty tastes and smells on your BBQ food either).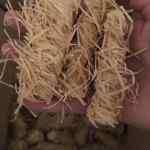 These firelighters are made from sustainable soft wood which is planed into shavings. Bees wax is mixed with the shavings and then 'knitted' on a spinning wheel and is formed into a solid unique shape and looks a bit like corn dollies!
Wooden firelighters burn for up to 10 minutes, longer than the 'traditional' kerosene (petroleum) / paraffin type of firelighters and the extra burn time allows your fire to take hold easily. Burning kerosene and paraffin can produce both formaldehyde, sulphur dioxide and small particulates. Formaldehyde is a known carcinogen. In addition to this, these wooden firelighters contain no added flammable chemicals and so can be safely stored indoors.
Using these types of firelighters (which we provide to guests in their log baskets) and our own sustainable cut logs from the farm means that you can enjoy using the log burners here with a clean conscience.
If you'd like to give them a try yourself then just google 'wood wool Eco firelighters.
Did you know…?
Paraffin wax candles (a petroleum waste product!)  emit benzene and toluene when burnt. Both toxic chemicals and known carcinogens! Now considered by many to be as dangerous as second-hand smoke.