You can book a private wild food foraging workshop held in the grounds of the farm offered by Joanna Ruminska, a totally brilliant professional foragers to learn the in's and out's of foraging for wild food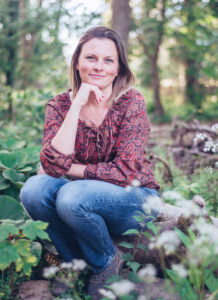 Joanna's foraging adventures started in early childhood, while growing up in the unspoilt, mountainous area, the nature's pantry was exposed just on her doorstep. She love discovering the taste that each new season brings and experimenting with new recipes. Joanna has been sharing my passion through foraging activities that she runs for children and adults. Joanna is a qualified nutritionist and has a genuine passion for understanding health benefits associated with various plants, fungi or algae.
During the workshop, Joanna will guide you through the plants, explain medicinal usage, some history and most importantly what can make the way to your table.
As a mum of 2, Joanna is adept at communication with children and actively welcomes younger people to join her workshops – our children love them and come back having tried a wide selection of plants!
The grounds at Lower Marsh Farm range from meadows, woodland, marshy land and salt water river frontage. As you can imagine this gives you access to a range of habitat and the associated plants – think seaweeds, nuts, berries, fungi, herbs and of course plenty of nettles! Once you have collected your treasures, you can bring them back to cook up a feast in your well equipped kitchen over a cup of tea. The workshop can be tailored to suit the needs of the group (all ages are welcome) and does not need much more than a good pair of walking boots or wellies. It is a great way to find out more about your food and bring you closer to nature with all its benefits.
A 2.5 hour guided foraging walk, offering first-hand experience is £120 for a group of up to 6 people.
To get more information and contact Joanna to book your experience, click here.
Or you can join one of the regular public wild food foraging workshops held at the farm, details about these upcoming events are here. Depending on availability, guests staying at Lower Marsh Farm can benefit from a '2 for 1' offer on these workshops.